PERKHIDMATAN HUP YAT
A7-G-18, Jalan Mewah 4,
Taman Pandan Mewah,
68000 Ampang,
Selangor, Malaysia.
+603-42707095

+603-42701095
+6012-6872045
+6017-8909188
yvonnehiewmei@yahoo.com
Latest News
All News > Air-cond service "PROMOTION 1-30 Nov 2019"
Nov 7, 2019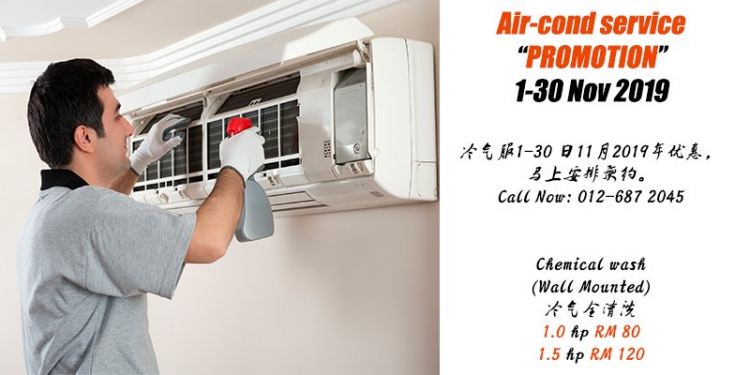 冷气服务1-30 日11月2019年优惠,马上安排预约。Call Now: 012-687 2045
Chemical wash (Wall Mounted)
冷气全清洗
1.0 hp RM 80
1.5 hp RM 120
Just like human body, your air-conditioner also needs to "detox" once in a while to ensure its functionality in the long run. Therefore, a regular cleaning and servicing is essential to keep your air-cond in check and extend its life span.
冷气必须每三个月至半年必需要清洗,就好像人的身体一段时间也需要排毒,这样冷气机的寿命才会长久。
Price Range :
价格:
Supply and Install New Daikin air-cond FREE
10 feet copper pipe
批发与安装全新Daikin 冷气机
Daikin 1.0 hp RM 1250
Daikin 1.5 hp RM 1500
You can choose to install your air-conditioner in a few ways:
• Wall Mounted
• Ceiling Cassette
• Ceiling Exposed
• Inverter Air-cond
• Ionizer Air-cond